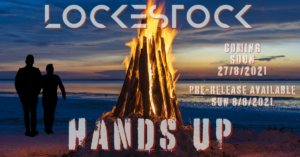 I have just come out of a 10 day isolation period even though I have not been around anyone other than the band but I was still helping them from home at least as they were constantly updating me on the phone. And I am glad that I can start venturing down the rabbit hole of the Lockestock Pop Music world again.
I am genuinely quite excited as their new track is due for release soon and the build-up to this is rather a different one to that of Mind-Blowing. ( I can't give out any information just yet as I will be in trouble). On another note I have Kevin is being his usual self joking around in the studio I could swear he said the other day he wanted to do a video in a tutu, I may have misheard but somehow I doubt it and both Alex and Kevin are excited about the narrative for this new track.
Just the other week I was in the studio with them while they took part in live radio interviews over Zoom call, and for one of them Alex was stuck in some heavy traffic thinking he might not make it…but he did, somehow!
Being in the studio and hearing the ideas being thrown around for the creative narrative of this next track as well as being asked for input from myself is quite rewarding as I feel like a part of that team. This whole journey is an eye-opener, to say the least, and I am enjoying every second of it even in the searing heat that we have had, quite surprisingly the studio is on the cool side.
They are very shortly going on their latest photoshoot and are preparing to do a music video (location undisclosed of course) I know, but can't tell anyone and for them, this is quite interestingly left field and great all the same. It's eating me up inside as I really wish to share this with the world. I only wish that I could sing, as watching Lockestock has awoken the artist in me that is limited to basics of karaoke while sounding like a dying whale but never mind! We all have hidden talents, I'm just waiting to find mine (As everyone laughs at me while writing this) All good fun!.
Sat here as I write this though, I am eager to see what Lockestock will come up with in the future but at the same time their studio will be opening up to other artists, whether current or future talent that can hire their studio to record and produce independent music. (I may ask them if I can do my own track (Personal use only obviously) and my vocals will probably need about 400 layers behind it (Kev said about 500) which is pretty funny!
Getting back to their new track though, listening to it reminds me that Lockestock has captured a part of classic film and music culture, put it together, and modernized it for the current generations. Using the tagline 'When you know…You'll know' is a perfect teaser for what is to come, and trust me, when you hear it…You will know what they mean.
Lockestock is still Pop Music, they are still party guys, just with the Route taking a darker theme! So the only thing I have left to say today is "Hands Up' released on 27/8/21 with a pre-release 8/8/21…You won't be disappointed!
Well! We are now past the Lockestock Pop Music release of 'Mind Blowing' which became available for download/streaming 25/6/2021. A certain amount of Hype behind it has created a flurry of Followers and fans who love this style of Pop Music.
Without any sort of Budget to throw at Mind-Blowing, just like many other Indie artists, I have witnessed Lockestock throw themselves at this with everything they have! They truly believe in this Pop Music track and the cause it represents being for the NHS with 50% of all song sales going to the RD&E Charity NHS Foundation Trust.
The work they put in, Day & Night to make sure this track gets off the ground and what they have done, well! What I have seen them do is extremely selfless.
Lockestock is not in this for Fame and Fortune although I mean to say yes, they do want to make a living from their work and want to get their music heard by the masses, but they have worked hard to be heard, and now is the time!
The NHS is something they believe in passionately so set out to give something back! During this process is the promotional side, especially when dealing with social media and the laughs that we have had especially with the TikTok videos when using certain deep fake apps have been nothing short of hilarious. I have seen myself outside of my bedtime comfort zone rolling around in fits of laughter and tears with some of the videos. (If you Have TikTok then check out @lockestockmusic1) they are funny.
I have started to form a close Bond with Kevin and Alex and even become more involved in helping with the promotional campaign. This is a foray for me into the insights of a pop music world that I would never normally give a second thought.
I'm starting to get too used to late-night Peri-peri chicken wraps on delivery (good job I'm still going to the gym) while Kev is messing about on the keyboard, watching his fingers moving at light speed whilst still being able to produce an amazing sound that he could never play again if he was asked to, but on the other hand, Alex is the production master who will play perfectly to come up with the right rift.
Yet during all this madness with social media, Artist pages on streaming platforms, website promotions they are still mastering their next track whilst starting on another one. It is non-stop work that is fuelled by the never-ending passion of two brilliant artists that I believe should be allowed to be heard.
Obviously, I have heard the next track for release and I can promise you that this one is more upbeat and even I couldn't prevent myself from having a dance around the studio. What is life without poking fun at yourself as with a bit of Lockdown weight still wrapped me I must have looked like a drunk Weeble (I wobbled but I didn't fall) that one was for anyone over 37 years of age!
I am really starting to get into this whole Pop Music thing and the cultured divide between my tastes is now narrowing.
I can't wait for the release of this next track. I think I'll start renaming this blog 'Adventures with Lockestock' because that's how it feels! Oh! And when you've finished reading this, go and buy/download Mind Blowing. Doesn't matter if you like it or not! It's for the NHS….DON'T BE TIGHT!
Stay tuned for part 3 (I'm sure Kev & TikTok aren't divorcing anytime soon)
Throughout the pandemic and all the lockdowns, Lockestock has strived to continue producing its style of pop music. Lockestock was never going to let anything stop them and it's inspiring to see that continue with all artists out there who aren't willing to give up on their passion. It's more interesting to see following the pop culture path some very inventive, young up-and-coming artists with the talent to produce and write music from their bedroom.
One of these up-and-coming stars has to be mentioned as Alfie Templeman. An 18-year-old singer/songwriter who plays all his own instruments but for an 18-year-old can carry an '80s style appealing synth-pop song into the pop culture world. One of these songs being 'who I am which you can check out on YouTube. The song has a 'Cure' type feel to it and will appeal to young and old alike. Alfie Templeman has already played a number of UK festivals, signed up to chess club records and 2020 appeared to be a strong year for this young DIY musician, and following on in February 2021 he was long-listed for the BBC sound of 2021 poll.
He also announced a tour in 2022 to complement his recently released debut album 'Forever isn't long enough', mixing indie-rock and electro-pop. Templeman is definitely one to watch especially for those cultured pop fans everywhere.
Before being around music artists or a band, I was intrigued to be invited to spend some quality time with Lockestock. A Pop band that never deviated from their true, original style as I got to listen to the production of 'Mind Blowing', a pop music song written as an ode to the NHS staff. They are die-hard musicians with music that burns through their very core! Sitting in the studio and watching Lockestock work was an honor as I have asked to stick around for a while as they produce the new Lockestock pop track.
Getting to know them both they are both fun to be around. Alex likes to have his bit of fun but his father Kevin is definitely the extrovert in the family. Even when singing Kevin is fooling around in the singing booth annoying Alex changing the lyrics as he goes which was funny as it appeared to make Alex laugh and cry at the same time. The number of times I heard "come on dad, you've had your fun it's 3 am, we need to get moving", Or even Kevin elegantly abusing TikTok is more than amusing, I have been laughing hysterically at these (Check out @lockestockmusic on TikTok and you'll see what I mean). Having spent days and nights working through the whole production of 'Mind Blowing' with Lockestock, I have to admit, I have never been a pop music fan, My genres have always been settled with Rock, Indie, dance, trance, etc but never pop music. But now after listening to 'Mind Blowing' I have really warmed to the Lockestock style of contemporary pop music!
The history that Lockestock has as a band is truly a riveting one. Alex toured in a boyband through the '90s supporting the likes of Blue and Atomic Kitten to name a couple and Kevin was a prominent DJ around Somerset as well as being a solo artist who released tracks such as 'Promised Land' and his own version of 'Love Train'. They both came to a halt temporarily when they both sat back to raise families. They told me that they always said they would be back eventually and with their own studio as Alex is a qualified and experienced music production/engineer and here they are!
Lockestock was born from an earlier promise between a Father and Son that they would return. "Our style of Pop Music has returned," said Kevin. I feel like part of the Lockestock musical family myself such has been the welcome I received and I am thankful they are allowing me to be part of this journey starting with 'Mind Blowing' and hanging around with them to document their journey feels like a privilege 'Mind-Blowing is not just a pop music song passionately written in support of the NHS as that deserves praise in itself, but the song really has an easy, relaxing party feel that has the feeling of easing into a hot summer. They did offer me a free copy of the CD but I respectfully declined as it is supporting the NHS and I said I would pay for it like everyone else as it is an extremely worthy charity cause. This blog is just referencing a fraction of what I am about to experience with Lockestock and Pop Music and I am looking forward to sharing these experiences with everyone.
Stay tuned for more of my experiences with Lockestock.
Lockestock is proud to support all the hard-working staff of the NHS. That's why they have chosen to support the RD&E NHS Foundation Trust, to give back something to all members of the NHS community who have been right on the front line. In the charity's own words 'The RD&E Charity raises money to support the amazing and often lifesaving work that takes place across the RD&E NHS Foundation Trust.
Your support and generosity make a real difference for our patients, their families, and our dedicated staff throughout our hospitals'. To sum up, this is an amazing cause to be behind. Sacrifices have been made to help survive this Pandemic. Let's repay that sacrifice by donating to the RD&E NHS Foundation Trust. Lockestock is giving them 50% of all track sales, so do something good, Buy the track and help raise as much money as we can. The song itself is not just about charity. it's about remembering the happiness, the joy in dancing and singing along without the stress of daily life weighing you down. Go listen to the preview on the site, buy it from all major stores and platforms from 25/6/2021. While you are on the site, don't go just yet, treat yourself to some Merchandise. fancy a hat? Buy it! Fancy a Hoodie? Buy it! Go on, you know you want to! sign up for the newsletter to be in with a chance to win some freebies plus much more! What are you waiting for? Get going and buy 'Mind Blowing', the summer track of choice.