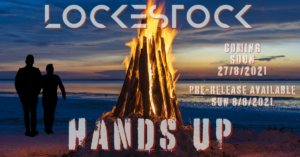 I have just come out of a 10 day isolation period even though I have not been around anyone other than the band but I was still helping them from home at least as they were constantly updating me on the phone. And I am glad that I can start venturing down the rabbit hole of the Lockestock Pop Music world again.
I am genuinely quite excited as their new track is due for release soon and the build-up to this is rather a different one to that of Mind-Blowing. ( I can't give out any information just yet as I will be in trouble). On another note I have Kevin is being his usual self joking around in the studio I could swear he said the other day he wanted to do a video in a tutu, I may have misheard but somehow I doubt it and both Alex and Kevin are excited about the narrative for this new track.
Just the other week I was in the studio with them while they took part in live radio interviews over Zoom call, and for one of them Alex was stuck in some heavy traffic thinking he might not make it…but he did, somehow!
Being in the studio and hearing the ideas being thrown around for the creative narrative of this next track as well as being asked for input from myself is quite rewarding as I feel like a part of that team. This whole journey is an eye-opener, to say the least, and I am enjoying every second of it even in the searing heat that we have had, quite surprisingly the studio is on the cool side.
They are very shortly going on their latest photoshoot and are preparing to do a music video (location undisclosed of course) I know, but can't tell anyone and for them, this is quite interestingly left field and great all the same. It's eating me up inside as I really wish to share this with the world. I only wish that I could sing, as watching Lockestock has awoken the artist in me that is limited to basics of karaoke while sounding like a dying whale but never mind! We all have hidden talents, I'm just waiting to find mine (As everyone laughs at me while writing this) All good fun!.
Sat here as I write this though, I am eager to see what Lockestock will come up with in the future but at the same time their studio will be opening up to other artists, whether current or future talent that can hire their studio to record and produce independent music. (I may ask them if I can do my own track (Personal use only obviously) and my vocals will probably need about 400 layers behind it (Kev said about 500) which is pretty funny!
Getting back to their new track though, listening to it reminds me that Lockestock has captured a part of classic film and music culture, put it together, and modernized it for the current generations. Using the tagline 'When you know…You'll know' is a perfect teaser for what is to come, and trust me, when you hear it…You will know what they mean.
Lockestock is still Pop Music, they are still party guys, just with the Route taking a darker theme! So the only thing I have left to say today is "Hands Up' released on 27/8/21 with a pre-release 8/8/21…You won't be disappointed!